Welcome to the official website of the Dorset Geologists' Association Group (DGAG).
Upcoming events of general geological interest in Dorset, and the surrounding region, are listed below.
For a more specific listing, use the search bar, below, or select one of the following categories:
Dorset Geologists' Association Group (DGAG), Devon, Dorset, Hampshire, Somerset, Wiltshire.
Get involved! For geoconservation work parties, see the Dorset's Important Geological Sites (DIGS) events list.

In the Footsteps of William Smith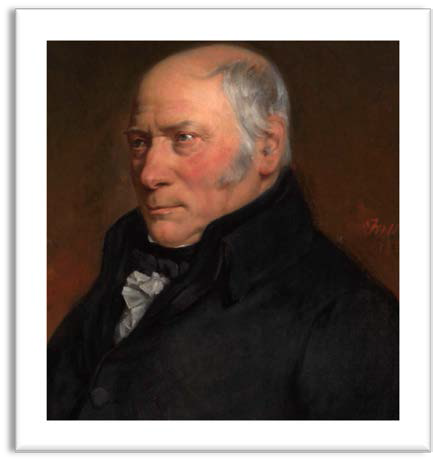 Portrait of William Smith aged 68 (courtesy of The Geological Society)
This walk has been rescheduled from an original date in October 2021.
William Smith came up with many of his ideas while working as surveyor on the Somerset Coal Canal from 1793 to 99, including the idea for making the world's first geological map.
We shall more or less follow the course of his old canal from Combe Hay to Monkton Combe, and visit several places associated with him.
Following a canal is not compatible with a circular walk, so we shall meet at the end of the walk in Monkton Combe and leave 3 or 4 cars there. I suggest we all meet at 9.45am in the village hall car park in Monkton Combe. The OS reference is 772620 and the postcode BA2 7HB. It is on Church Lane and near the Wheelwright Arms pub.
We will then all drive in the remaining cars (Covid regulations willing) to the Odd Down Park and Ride Car Park. The OS reference is 733616 and the postcode is BA2 8PA. Parking is free.
We shall start the walk there. The total walk is 5 to 6 miles long. You will need a packed lunch. When we get back to Monkton Combe, the drivers will all drive back to Odd Down to collect the vehicles. Meanwhile everyone else can refresh themselves in the Wheelwright Arms.
Geologically we shall see rocks of the Middle and Lower Jurassic, from the Greater Oolite to the Midford Sands. We shall see several canal side features associated with Smith, including the site of the very ambitious hydrostatic caisson lock designed to lower boats 46 feet in a single lock. It was successfully demonstrated to the Prince Regent in 1799, but later spectacularly failed, and this was followed by Smith's sacking.
We shall also see Smith's house at Tucking Mill, the Midford Aqueduct, built by Smith's boss, John Rennie, the Combe Hay flight of 22 locks, and Smith's quarry in the Greater Oolite on Combe Down.
Martin Gledhill, a DGAG member, will lead this field trip.
Martin strongly recommends Simon Winchester's book The Map that Changed the World to set the scene for the walk.
See also: William Smith's Maps – Interactive