Dartmoor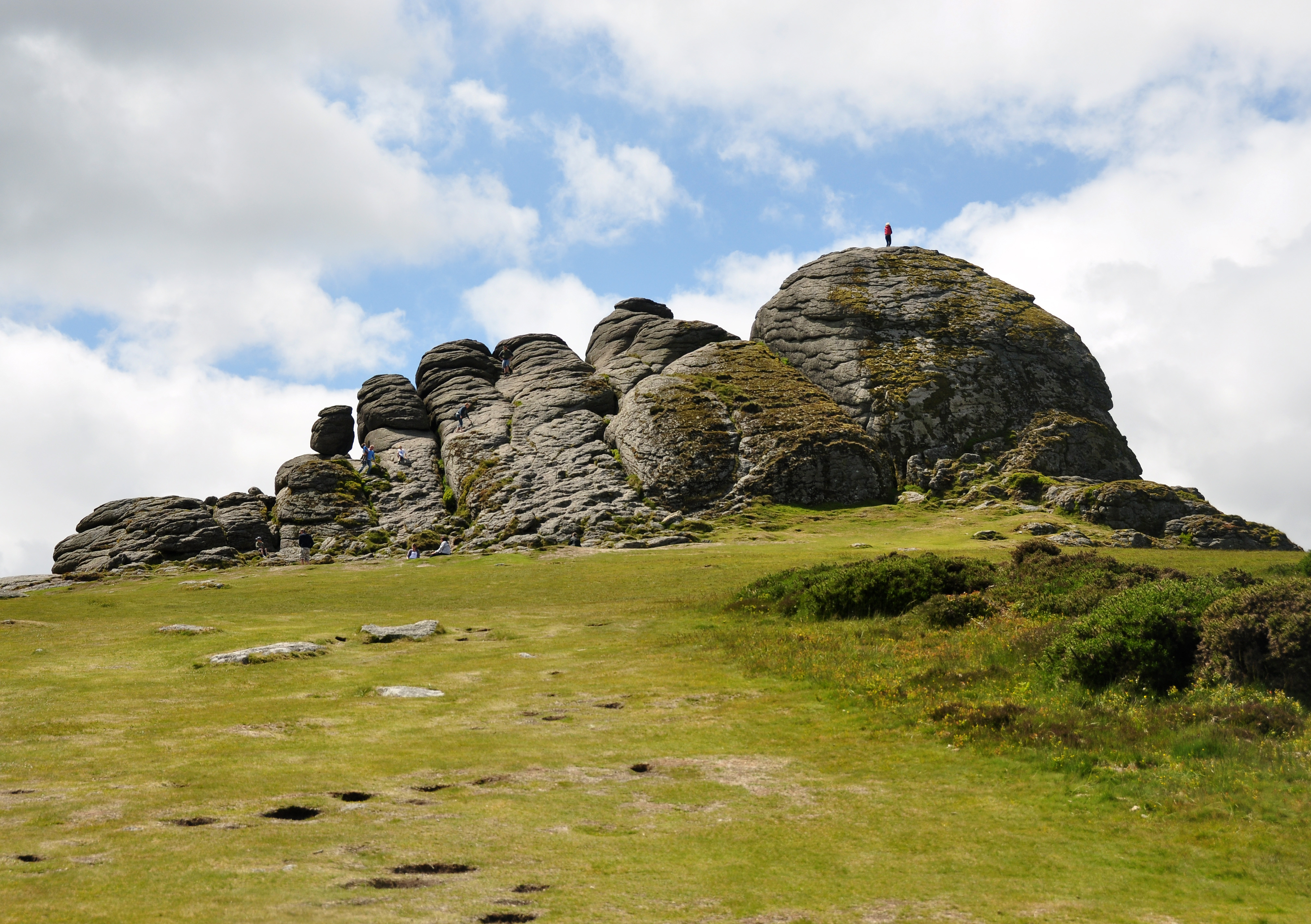 DGAG Field Trip. Leader Alan Holiday. Includes visits to Haytor, Two Bridges Quarry, Burrator Reservoir and Merivale Quarry.
Detailed itinerary:
Take A35 to Exeter then follow M5 around Exeter. Take A38 (signposted for Plymouth) at end of motorway section. Take A382 Bovey Tracey road. Then follow B3344 and look for Haytor sign. Park at third car park nearest to Haytor. There are toilets at the first car park.
Locality 1: Haytor. GR SX 7587 73. Granite varieties – Tor Granite and micro-granite for textural features, jointing, tor form, block field (clitter), and weathered granite (growan). Also former quarry to the north of Haytor in tor granite G.R. SX755773.
Return towards Haytor Vale and take minor road northwards to link up with B3344. Turn west along B3212, drive through Post Bridge and then on to Two Bridges. Park on the roadside by the former quarry.
Locality 2: Two Bridges Quarry (SSSI) GR SX 610 750. Rotted granite demonstrating formation of tors and probable evidence of pneumatolytic action.
Follow B3212 to Princetown and on towards Yelverton. Turn right when signposted to Burrator Reservoir. Park in former quarry on left of road.
Locality 3: Upper Quarry Burrator Reservoir GR SX 549 677. Contact between granite and country rock (thermally metamorphosed to hornfels). Contact is irregular and needs to carefully searched out! Now walk down the road a few metres.
Locality 4: Lower Quarry Burrator Reservoir. Granite GR SX 550 677. and return over the top to Upper Quarry – look for evidence of changes in vegetation and soils to localise boundary of granite and country rock.
Return to Princetown and turn left at cross-roads, go past the prison and then turn left towards Tavistock along B3357.
Locality 5: Merivale Quarry GR SX 546 752. This is the last working quarry on Dartmoor but when I recently visited it, it didn't seem to be working!! Plenty of granite examples plus exotic rocks bought in for cutting. Some good collecting is possible although recently the variety seems to have diminished. Well developed jointing and massive character of the granite is seen in the quarry.
If time allows follow B3357 further west to Great Staple Tor and Cox Tor to the north of the road. Good car park to south of the road and 'easy' walk to Cox Tor
Locality 6: Area between Staple Tors GR SX 540 755 and SX 543 760 and Cox Tor GR SX 531 761. Good evidence of periglacial features including patterned ground such as turf mounds and stone garlands. This is a recently designated SSSI, the 4000th apparently.
Return to road, follow B3357 back towards Two Bridges, follow road to Dartmeet and Ashburton. Follow A38 back to Exeter.