Welcome to the official website of the Dorset Geologists' Association Group (DGAG).
Upcoming events of general geological interest in Dorset, and the surrounding region, are listed below.
For a more specific listing, use the search bar, below, or select one of the following categories:
Dorset Geologists' Association Group (DGAG), Devon, Dorset, Hampshire, Somerset, Wiltshire.
Get involved! For geoconservation work parties, see the Dorset's Important Geological Sites (DIGS) events list.

The 30th Anniversary Hampshire Mineral & Fossil Show
7th September 2019 @ 10:00 am

-

4:30 pm

£1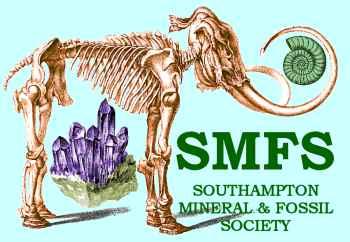 The 2019 Hampshire Mineral and Fossil Show will be the 30th that SMFS have organised since the first held on Saturday 29th September 1990 at the Avenue Hall in Southampton.
Offers of help with the DGAG and DIGS displays would be very welcome 😉
Doors open to the public at 10:00 and the Show finishes at 16:30. Admission is only £1 for adults with accompanied children and Junior RockWatch members free (show membership card).
The Show is in two halls, all on one level, and is suitable for visitors with mobility disabilities. Facilities for the disabled are present in the venue. Refreshments are available throughout the day at reasonable prices.
The layout of the Show has the majority of the sales and dealers in the main Linden Hall and all of the exhibits and displays in the Pine Hall. This allows the exhibitors to be able to spread out and gives better access for visitors to view the displayed material and to talk with the exhibitors.