Welcome to the official website of the Dorset Geologists' Association Group (DGAG).
Upcoming events of general geological interest in Dorset, and the surrounding region, are listed below.
For a more specific listing, use the search bar, below, or select one of the following categories:
Dorset Geologists' Association Group (DGAG), Devon, Dorset, Hampshire, Somerset, Wiltshire.
Get involved! For geoconservation work parties, see the Dorset's Important Geological Sites (DIGS) events list.

Lyme Regis Fossil Festival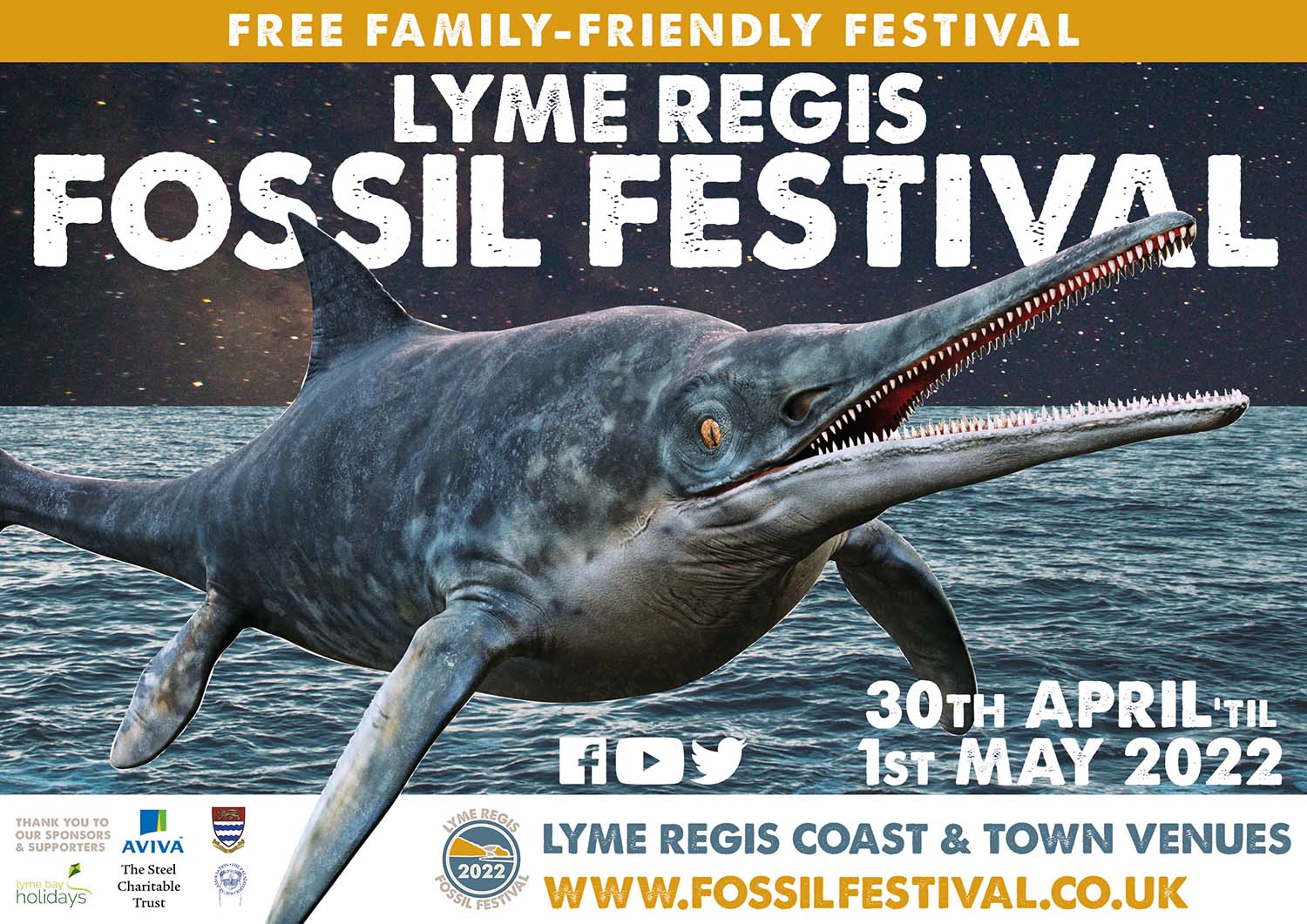 Welcome to the 2022 Lyme Regis Fossil Festival located on the world-famous Jurassic Coast. After two years of delivering the Lyme Regis Fossil Festival online, we are thrilled to be back in Lyme Regis town centre for a weekend of science, discovery and fun from Saturday April 30th – Sunday May 1st 2022!
The coast around Lyme Regis and Charmouth is one of the most famous, significant and unique fossil sites in the World. It is the richest source of fossil marine reptiles, fish and insects anywhere in the World and is the place where the first ichthyosaur and plesiosaur were described in science thanks to Mary Anning (1799-1847), quite possibly the most famous fossil collector of all time. What makes this place so good is because there are lots and lots of fossils to be found. They are very well preserved and the rapidly eroding cliffs ensure a sustainable supply, although that is dependent on the landslides and therefore the weather. We love rough, stormy weather as that is what uncovers the fossils. So collecting is unpredictable and unfair but given time, commitment and a bit of luck, anyone can make an important discovery. Today, several collectors quite literally follow in Mary Anning's footsteps and despite over 200 years of scientific collecting, new and exciting discoveries are made every year.
The Fossil Festival will host some fascinating exhibits throughout the town centre including representatives from the Natural History Museum, Palaeontological Association, Bristol University's Palaeontology department, The 'Etches Collection', The Dinosaur Isle and many more, as well as some thought-provoking and entertaining talks and lectures in the Marine Theatre, an immersive educational 360° cinema in the Hub, the wonderful Lyme Regis Museum and lots more entertainment over the weekend. Join us at the Lyme Regis Fossil Festival for an adventure 200 million years in the making!